adult products
How to get most out of your fleshlight
So you've made the decision to purchase a fleshlight. Congratulations!
I guarantee you that after using your fleshlight for the first time, you'll never want to go back to using your hand ever again.
To make sure you have the best experience possible, we've put together this quick guide to getting the most out of your new sex toy.
Remove The Plastic Tubing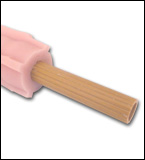 When you first take your fleshlight out of its box, you'll notice that it comes with plastic tubing inside it.
You can remove this and throw it away. This tubing is only there to stop the inside walls of the fleshlight sticking together during initial storage and transport.
Warming The Fleshlight
Whilst you can use a fleshlight without warming it up first, it feels far more pleasurable and life like when you do.
Warming up your toy is simple and can be done in 4 easy steps.
Fill a sink or basin with hot water.
Pull the sleeve out of the casing of your fleshlight.
Completely submerge your fleshlight sleeve in the hot water for 1 – 2 minutes.
Remove the sleeve from the hot water and insert it back into the fleshlight casing.
If you own a fleshlight sleeve warmer, you can skip all the steps above and just use that instead.
Once you've got your fleshlight all warmed up you're almost ready to use it.
Use Plenty Lube
But before you do you better lube it up. You can use Fleshlights official lubricant if you like, however, any water-based lubricant will do the trick.
Just put 1 or 2 squirts of lube on the entrance of your fleshlight, and another on your dick and you'll be ready to go.
Warning: Whatever you do, don't use petroleum based lubes as they will damage your fleshlight sleeve.
Enjoy Your New Toy!
This step is fairly self-explanatory. Load up a porn video of your choice and have some fun with your new sex toy.
Trust me when I say you'll never want to go back to masturbating with your hands once you've shot your first load into a fleshlight.
You can simply use your hands to move the fleshlight up and down… but if you prefer to thrust your cock in and out of it, you've got a few options.
One of the simplest options is to sit your fleshlight on the edge of a table and hold it steady whilst you pound it.
Or if you're feeling a little more primal and just want to fuck on the floor, you can stick your fleshlight into an old shoe for a hands-free experience.
If you're willing to shell out a little bit extra, you can buy Fleshlights official shower mount. This is basically a suction cup mount for your fleshlight that you can stick to the walls of your shower. It also sticks well to some regular walls and wooden doors. (Bang! Bang! On the door baby!)
You can also loosen and tighten the cap at the back of the fleshlight to adjust the suction to be just how you like it.
Cleaning Your Fleshlight
Once you're done fucking your fleshlight (and had a mind-blowing orgasm) now comes the least exciting part of using a fleshlight. The cleanup.
You should clean out your fleshlight after every use to prevent mold and bacteria from growing inside.
But don't worry, so long as you follow these simple steps for cleaning your fleshlight, you won't have to worry about any of that.
Remove the sleeve from the casing.
Unscrew the end cap from the casing.
Rinse out the fleshlight casing and end caps.
Pat down the casing and end caps with a towel and leave them out to dry.
Rinse out your fleshlight sleeve with warm water. Do this by running the tap directly into each end for around 1-2 minutes on each side.
Once your sleeve has been properly rinsed out, leave it out to dry. (Sit them next to a fan if you want it to dry quicker.)
Once all the parts have completely dried off you can put your fleshlight back together. It's now ready for its next use.
Warning: Never use soap or chemicals when cleaning out your fleshlight as this can damage the material.
Rejuvenate Your Fleshlight
After a few months of use, your fleshlight can start to feel slightly dry.
But don't worry. You can easily rejuvenate the material with the Fleshlight renewing powder. (Or use some cornstarch – It's the exact same.)
To use the powder or corn starch, sprinkle it over your sleeve until it's covered in a thin layer. That thin layer of corn starch will be absorbed by your fleshlight and soften it up.
And that's all there is to it.
With just a little bit of care after each session, your fleshlight can last you for many many years.